Bruised and battered, but not beaten; the Adventure Travel industry is poised to benefit from the coming surge of "revenge travel". The pandemic has helped us to re-examine what we value, and for many, dust off and prioritize our bucket lists with renewed vigor.
To be ready for the new wave of demand, Adventure Travel marketers need to be equipped with the latest personalization and interactive channel tools. AMP for Email is an emerging technology that enables marketers to drive greater engagement and interaction from within a traveler's email inbox.
This isn't like buying a candy bar
Booking travel for all but the most spontaneous of us is a high-consideration purchase. Unlike an impulse purchase for a Snickers Bar at the convenience store counter, travelers conduct some level of research (I take a deeper dive into the buying lifecycle in an earlier article).
You only need to look as far as your web analytics (e.g. Google Analytics) dashboards and reports to see how the research process for travelers can be an intensive one. Often, they cycle through and evaluate dozens of destination and tour types before taking a break and resuming the search at a later time or date.
Reengaging travellers during this intensive research phase of the buying journey is a key strategy for keeping the frequency of communication high, which leads to reducing the purchase cycle timeline, and helps to build a stronger relationship.
What is AMP for email?
AMP, or Accelerated Mobile Pages, was launched by Google in 2016 as a means of improving web page loading times on mobile devices. More recently, the technology has been adapted by Google to enable dynamic content for marketers that travelers can interact with without leaving their email inbox. Examples of interactive content include: scheduling & booking, surveys, carousels, quizzes, gamification or some other types of dynamic content you may already have on your existing digital channels such as the web, or mobile app.
Help travellers continue their research
After a prospective traveler has completed a round of research and you think it is time to reengage them after a break, you need to pickup the conversation where they left off, and let them explore.
An interactive carousel is one good choice for this kind of re-targetting campaign, as it presents travelers with a list of potential tours they've shown interest in, but haven't shown commitment to one in particular. You may have a good educated guess as to which tour a traveler is set on at the moment, but travelers have been known to switch destinations at the last minute, or maintain a "short-list" for extended periods.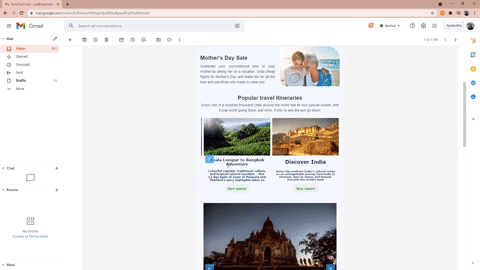 This means that an AMP for email powered carousel should include intelligence from either some robust segmentation based on recent web analytics signals, or some kind of predictive modeling. If your tour catalogue has thousands of tours, you should only be presenting your top recommendations based on a traveler's recent interests, past booking history and other profile information.
There are some predictive models that do particularly well with these situations where travelers are rapidly changing their destinations, which I demonstrate in a previous article and video about AWS Personalize.
Know thy traveller
Aside from increasing engagement and bookings, implementing AMP for email with a "next best tour" carousel opens the possibility of capturing more detailed engagement metrics, which can be used to garner further traveler insights and qualify marketing leads.
Without AMP for email, you are limited to capturing simple email clicks, opens or unsubscribes. With an interactive carousel powered by AMP for email, marketers can capture additional engagement metrics such as: carousel clicks, hover over time, time spent on carousel and more.
Wait, this sounds complicated
With any emerging technology, adoption can seem daunting. This is only further exacerbated when a number of emerging trends converge to enable a new customer experience. In the above use cases, we're combining personalization, with a new channel capability.
If you're looking to explore the combination of these capabilities to prepare for the coming wave of adventure travel, you may be interested in reviewing this SaaS offering from SpadinaBus, which solves this challenge in a turn-key fashion for the email.