Interactive Real-Time Interaction Management (RTIM) Built with AWS
Personalize customer experience and determine next best action across diverse channels. Drive customer engagement by delivering rich interactions that unlock existing data and prediction investments made by AWS First organizations that value transparent and simple solutions.
AWS Ecosystem
Improve relevancy with low-latency and streamlined integration with other key AWS customer engagement services such as: Personalize, SageMaker, Kinesis Analytics and AWS powered data lakes.
Innovate
Adopt the latest and best from AWS, the most innovative cloud IaaS platform. Avoid paying a premium for packaged solutions that will eventually require customization.  
Severless
100% built with AWS serverless services like Lambda. No need to provision or manage servers for low-capital PoCs. Pay for only what you use, and automatically maintain high levels of performance as you scale.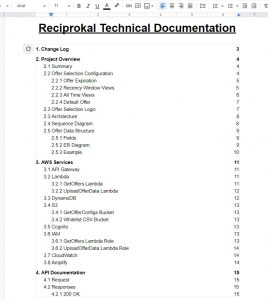 Reciprokal "lite" is an Accelerator or Quick Start, which allows for rapid deployment of the most popular real-time interaction management use cases (i.e. white listing and inbound push).
Access Reciprokal Lite documentation and source code below:
Reciprokal offers the same capabilities found in popular real-time interaction management (RTIM) packaged solutions such as Unica Interact, SAS Intelligent Decisioning / RTDM, Adobe Target, Pega Customer Decision Hub and  Salesforce Interaction Studio. However, Reciprokal isn't for everyone; explore our posts below to help determine if your organization is well suited for an AWS First solution.
Discover Benefits of a Pragmatic and Transparent Alternative