The New Normal: Cautious Research
As COVID-19 travel restrictions begin to ease, travelers will begin to research potential destinations for their long awaited vacation.
Although pent up demand will drive interest, safety will be top of mind. Travelers are likely to narrow their list of destinations based on the best available safety information from their local government. 
When a traveler discovers that their preferred destination remains under a travel advisory, it can feel like throwing cold water on their plans, but this does not need to be the end of their planning and research journey. 
Timely Alerts for Travel Advisory Changes
When changes happen to travel advisories, travel industry organizations can keep their clients and prospects in the loop with timely updates via SMS, email or any other client preferred channel.
For example: 
Allow travelers to subscribe to updates on their favorite or planned destinations
Send SMS messages within minutes of government travel advisory changes to subscribed countries
In addition to providing a valuable service for prospects and clients, travel industry marketers gain additional benefits:
Potential to acquire additional client contact information, and earn consent for email and SMS communications
Potential to pair travel advisory alert messaging with relevant complementary marketing and service resources to reinforce their organization as a trusted travel partner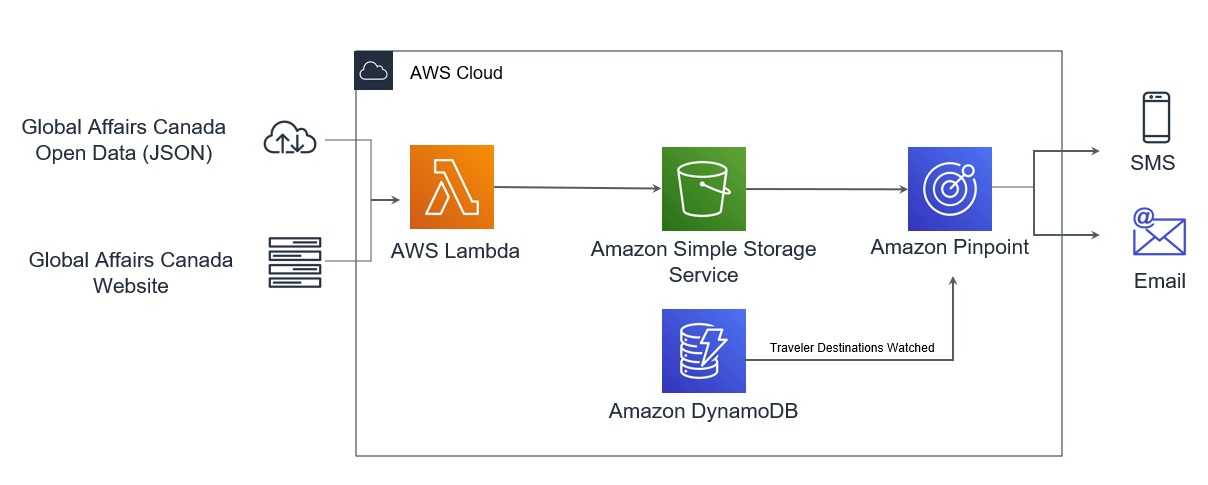 The above solution is able to detect changes to both a structured data source (open data from the Government of Canada) and an unstructured source (a website from the Global Affairs Canada). Once detected, the delivery of an SMS or email is delivered in near-real-time. 
Amazon DynamoDB is used to store the subscription preferences for each traveler. AWS Pinpoint is Amazon's outbound messaging tool, which offers pre-built integrations for email, SMS and mobile push delivery. 
All of the above services are built on AWS serverless technology, which is rapid to deploy and easy to maintain. As with all other AWS services, getting started with a prototype is low capital intensive due to a pay-as-you-go pricing model. 
In the post-pandemic world, travelers will emerge more cautious and put more energy into their travelling plans. One powerful way of earning and maintaining trust with travelers is to help personalize their experience during the research process. AWS Personalize offers a powerful way of delivering relevant messages when travelers are planning – even when they are rapidly considering different destinations. 
Explore more about how AWS Personalize helps with the new normal for the travel industry with this two part video series: